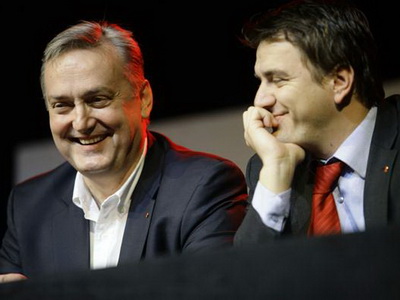 SDP's president Zlatko Lagumdžija stated that proposal of the law on state and defence property will be discussed in the Council of Ministers next week and he expects it to be passed in PA BiH in urgent procedure within next 15 days.
Comment:
At the meeting of SDP and SNSD delegations, held in October 2013, it was announced that the two parties has reached a mutual agreement on laws on state and defence property. The statement was followed by an optimistic announcement of state Minister of foreign affairs, Zlatko Lagudmžija, that both of these laws will be adopted, as a "package deal", in urgent parliamentary procedure within a fortnight.
A day later, SDP's vicepresident and state Minister of communications and transport, Damir Hadžić, further emphasized that "By passing this law, we're setting the path for better future of BiH and all its citizens. Those who live in the past will probably try to stop this progress, as we are already witnessing their years-long hindering of progress and positive changes in BiH."
The urgent adoption of these laws never happened, while the Council of Ministers of BIH has enlisted the Law on state property in its program for the year 2014. However, at its 89. session, held in the beginning of April, The Council of Ministers adopted Information on Results of work of the Work Group for Solving the Issues of State and Military Property and concluded that a Draft Law on State Property, proposed by the Ministry of Justice, should be withdrawn from the procedure at the Council of Ministers of BIH.
The official press release on the 89. session states that the Work Group, comprised of Ministers Bariša Čolak, Sredoje Nović and Damir Hadžić, no longer has a consensus on this law, and that The Draft Law on State Property was not discussed at the Council of Ministers session, because Minister Damir Hadžić has, in the meantime, proposed a new text Law.
Meanwhile, The Proposal Law on defence property, proposed by SBBBiH's Mirsad Đugum, was discussed at the end of March 2014 in House of representatives of PABiH, but has failed to gain support from MPs from Republika Srpska.
In conclusion, Zlatko Lagumdžija's promise on adopting these laws in urgent procedure within the frame of 15 days, given as far back as October 2013, has remained unfulfilled. Additionally, this process was stalled once again with Council of Ministers withdrawing the draft law from the procedure five months later. On the other hand, minister Hadžić has then stated that any obstruction of passing these laws could only be done by those "who are living in the past", but five months later has himself contributed to additional pause in the process, making this a move inconsistent to his previous statements.
(istinomjer.ba)