A few days ago, the public was informed that the Presidency of BiH have purchased a new vehicle to meet the needs of Croat member of presidency, Dragan Covic. The car in question was Audi A8, priced at approximately 200.000 KM (100.000 EUR). This news calls for a reminder on the statement that Covic made half a year ago, at the time when Pope Francis visited Sarajevo.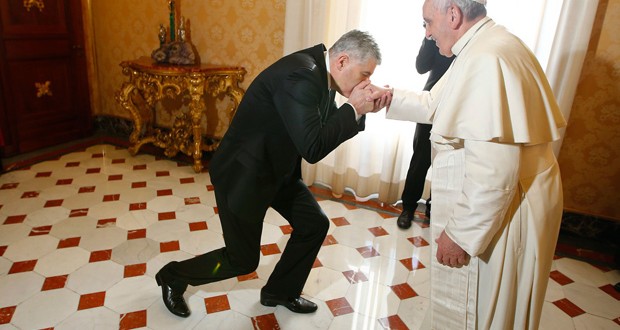 After Pope Francis arrived at Presidency of BiH in Ford Focus, Covic made this statement, expressing admiration at the Pope's well-known restraint from luxury:

"I am riding from the airport in Audi A8, while the Pope rides in some kind of Ford. What to say on all that? This is something that should be a kind of motivation for all of us in politics – that we can do politics in a different way".
Dragan Covic never seemed to be particularly concerned with the need to cut spending in BiH's over-priced administration – except when he used it as a side-argument in favor of reorganizing the Federation of BiH. His idea of merging the existing ten cantons into three new administrative units was, on occasions, justified by the notion of making the administration less costly and more rational. Other than that, it is hard to find a single mention of spending cuts in Covic's public statements. His party has been equally uninterested in this particular topic. If we take a quick look at HDZ BiH party's election program, we can only find one promise concerning spending cuts in public administration, and even that one is quite vague and imprecise:
"We will work on legal reforms that should create favorable business climate in real sector as well as increase manufacture and exportation. This includes (…) relative decrease of public revenues, that should ultimately lead to GDP growth and employment."
However, since Pope Francis' visit was an event that Covic has severely exploited for his personal political promotion, the Croat member of presidency and president of HDZ used all the media space he could, to comment on seemingly every aspect of the Pope's visit. Given the fact that the Pope's humble means of transportation wowed the Bosnian public – having one of the most expensive administrations in the world and used to only seeing the public officials in the most expensive cars – Covic attempted to find a way for this publicity to rub off on him as well.
Trying to use the moment, Covic praised Pope's arrival from the airport in Ford Focus and described it as a motivation to treat public resources differently and, supposedly, more responsibly. This motivation, as it seems, did not last long – only half a year later, Covic used the public money to get the exact same "Audi" that he mentioned in his previous statement in an all but remorseful way.
The cost of the purchase of this vehicle, according to the official Decision on the selection of the best bidder, amounted to 170.940 KM (no tax included) of taxpayers' money. Therefore, this action can only be assessed as another inconsistency of Dragan Čović.
(Istinomjer.ba)